Why Should You Outsource Your Security Needs To A Security Company?
The crime rate is steadily increasing in different cities and areas, emphasizing on the importance of security systems and services. Commercial, residential and industrial sectors have their own specific needs and look for specialized security systems and security solutions in Montreal. These days, the trend of outsourcing the security needs to a reputable company is also increasing. Following benefits can be obtained by doing so:
Transfer of risk

Profitable and cost effective solution

Increases the quality of security

Enhances management flexibility

Improves focus
Those who have availed this service will agree to the fact that outsourcing your security matters gives a complete peace of mind. Once the contract is made, it becomes the responsibility of the security agency to look for the security guards and personnel having sound experience and training in their respective fields. Each industry has its own specification and requirements. For instance, when it comes to entertainment industry, people look for agencies that have experience in securing the venues, are licensed and have affiliates in every state. The staff provided by the security agencies knows how to control and manage their work efficiently and smoothly.
Following are some other benefits of outsourcing the task to the security agency:
Quality of staffing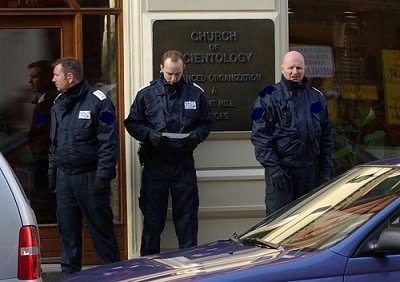 There are some reputable security agencies operating in the market that are well known for their field personnel and managers. These two areas are considered as the most critical determinant of the quality of the security product. The market for security agencies has become quite competitive and therefore these companies adopt rigorous standards when it comes to training, hiring, motivating and reviewing their personnel. Some of the most common protocols that are always followed include:
State license of the guards

Relevant experience of the security staff

Physical abilities are tested

Intelligence measured

Integrity evaluated
Management process
Whether you have a grand corporate event coming up or you need security guards for your commercial property, these security agencies have a complete solution to your needs. Their management and processes are quite organized and also align with the company's vision and are in accordance with the federal and state laws. They are known for maintaining tight controls over daily operations through proper defined procedural protocol, management reporting system, frequent performance reviews etc. The best part about these companies is that that always maintain regular liaison with their client and respond to their changing needs.
Detailed security program
When hiring any security agency, always look for the one that offers the most reliable and comprehensive security guard services. The security program of these companies must cover the following:
Evaluations and risk assessment of prior to deployment

Enforcement of management objectives and policies with respect to access, decorum and acceptable conduct.

Intervene to protect, abort and prevent all sorts of threats to the property and people.
As you sign a contract with any of these companies, a security manual is given to the client that contains the following:
Point of contact and emergency numbers

Security officers' rules and regulations with respect to their appearance and rules of conduct.

Overview of their duties

Station specific duties

Usage of security equipment and procedures
Well-equipped and trained resources
There are a few security agencies that provide the required security equipment to the staff as well. These one-stop-shop security agencies are a blessing indeed. The most common equipment offered by these companies includes:
Radios

Sensors

Hand metal detectors

Video
The outsourcing of your security services helps your business too stay profitable and remain competitive in the business world. When outsourcing for a security company, always remember to carry out a proper investigation from previous clients.
Comments Off

on Why Should You Outsource Your Security Needs To A Security Company?