Simple Steps To Take To Improve Condo Security
If you have lived in a detached house before and you have exercised due diligence to make sure you and the rest of the household members are safe then you might as well think that it will be easy to stay in a condo should you decide to in the future. Well, that assumption is partially correct since the basics to safety apply in both types of homes. But you have to remember the simple steps below to make sure living in a condo is safe at all times.
Be familiar with your surroundings
You have to make sure you have checked on every detail regarding the neighbourhood – including the safety of nearby shopping centres and all other amenities found in the place. You also have to be familiar with your neighbours. Since you are living literally close to these people, you need to get to know them well.
Know the entrances and exits
It is always important to be familiar with these things so you will know very well where to run to in case of emergencies. With entrances and exits, indoor parking as well as storage facilities are included. You might want to get to know where you can locate emergency sirens or panic buttons so that it will be easier to call for help later on in the event that there is fire or any other calamity that will hit the place.
Think about access control as well
You may presume that access control and security are one and the same thing. The truth is that access control can be defined as limiting or restricting any third party's access to the building. Security, on the other hand, can be used together with access control in order to alert any authorised personnel regarding a breach that may take place within the place.
Alongside this, you have to make sure that there is limited access to areas where unwanted visitors may enter the building. You do not want them gaining access to your unit or anybody else's unit for that matter. If you notice any malfunctioning door then report to authorised person as well.
Don't forget to lock the door whenever you leave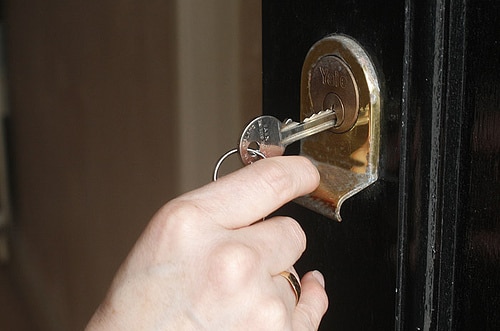 It will also be wise to double or even triple check whether you have locked the door or not before you leave. Often, this step is being neglected by many up until something goes wrong. In line with this, you should make better use of your door's peepholes. Make sure you peep through it whenever someone is knocking at your door before opening it.
Make sure that locks have been changed before you occupy the unit
There are many cases when someone else may have occupied the unit you are going to rent or buy before you. If this is the scenario, you have to make sure that the locks have been changed before you move in. This will prevent any possibilities that the previous owner will barge into the unit. It will also be well worth it to note who you have given duplicate keys to. Of course, you should make sure you have removed the key from the key hole when you leave for an errand or for work.
Prevent placing your names on the mailbox
Some condo units have mailboxes on the first floor of the building. You might think it is a good idea to have your name printed on the mailbox you own but to keep you safe, it will be better to just have the unit number placed on it instead. This will prevent the possibility of strangers telling your neighbours that they know you when in fact they do not.
Never place your lives and other lives at risk if you decide to live in a condo. Learn more about how we make sure you get the best in terms of condo security in Montreal.
Comments Off

on Simple Steps To Take To Improve Condo Security