Security Guards Can Ensure The Security Of Your Events
It takes a lot to plan an event. After putting too much effort to come up with an incredible event, the last thing you would want is anyone interfering with the event, thus compromising the safety of the people attending it. If a particular event experiences mayhem, people will not be willing to go to the event next time. That is why as an event organizer, you need to make the right choice for event safety and security. The right way to go is hiring security guards. Well, you may have seen security guards in commercial buildings and other places, but never had the chance to understand their primary roles. These are the elementary roles of security guards for events.
Establishing visibility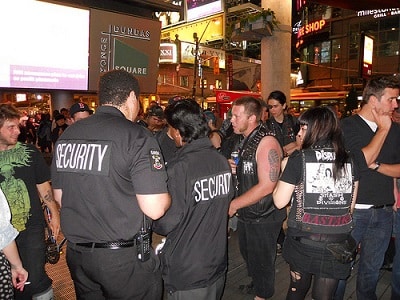 Police officers usually respond when there is a crime somewhere. Security guards, on the other hand, prevent the occurrence of crime or any security breach. In that case, one of their roles involves establishing visibility around the event's perimeter. Their visibility discourages individuals with malicious intentions from carrying out their plans. In fact, most criminals usually have second thoughts when they notice a security guard in an event. This makes security guards an important element for a successful event.
Monitor the area
During big events, there is usually a lot of distraction because so many things happen at the same time and there are too many people moving up and down. Security guards are trained to keep a vigilant eye on everything. They particularly use three senses (smell, sight, and hearing) to identify any odd thing in the event. If there is a burning cable, they will smell it and get to it very fast to prevent accidents and damages. If someone cries out for help, they will be able to hear and respond promptly. Most importantly, they need to be particularly careful to ensure that no one cunningly diverts their attention to get them off duty. With an event that is fully monitored by professional security guards, you can look forward to a successful and safe event.
Solving problems
Earlier, you found out that security guards aim to prevent crime. Apart from preventing crime, monitoring the event helps them to sense crisis and respond promptly to put the situation under control. Professional security guards do not easily get caught unawares. This is because they appreciate their roles in important events. They are also well prepared to deal with different kinds of situation involving event security.
Maintaining security and giving report
Security guards will avert the occurrence of crime in an event and keep a close eye on everything to ensure that there is absolutely nothing suspicious in the event. After much observation and ascertaining that all is well, security guards will assure you of event security. Security guards will also report the occurrences of the day to their supervisors after carrying out successful security patrol services in Montreal events. These reports are important especially when you are looking for a good security company that delivers top-notch security services. Most good security companies will show their reviews and reports indicating the kind of services they offer, their efficiency and expertise when it comes to event security.
Security checkups
Security guards do not only monitor events for security purposes but also carry out security checkups. Depending on security policies of a particular company, security guards may be required to carry out check-ups for all guests or visitors at the entrance point. During this exercise, they will only allow harmless people into the event. If anyone is found with weaponry or any harmful object, he or she will not be allowed into the event. The security guards may hold the person for questioning and report the matter to the police if it is a serious case. Besides screening visitors, security guards also guide them to various places in the event. They offer direction to lost people and ensure all is well.
Security advice on events
Security guards can also offer you important tips on event security to help you avert possible threats. They will show you ways of preventing certain security problems. They will also show you how to coordinate with them to ensure the event is safe, secure and successful.
In all events, security matters a lot at the end of the day. It is the determinant factor of people's turnout the next time an event is held. People like to be assured of their security. They want assurance that their possessions will not be compromised due to security reasons. Hiring security guards for services is the best approach to deal with all security concerns of an event. Therefore, as you budget for everything that will make up the event, remember to include security services in the budget. With security guards in your event, you will have a successful event with a great turnout.
Comments Off

on Security Guards Can Ensure The Security Of Your Events