Personal protection is something that we normally associate with politicians, celebrities and other people in the public limelight. It is hard for an ordinary person to think that they need personal protection. The truth however is that anyone can utilize the services of a personal bodyguard. Certain circumstances come up every now and then in our lives when the services of a bodyguard can not only give you peace of mind but could also save you from serious injury or harm.
Knowing when you need the services of a bodyguard is key to forestalling these negative consequences. In this article, we list certain circumstances in which it would be wise to consider the services of a bodyguard.
If you have been stalked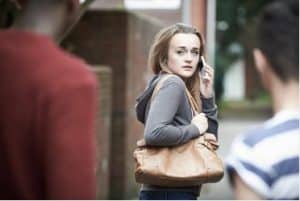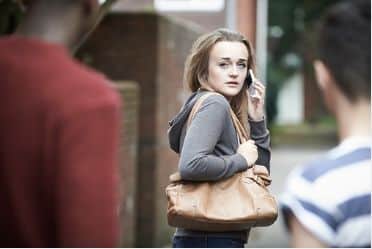 Having a stalker is one of the most terrifying things a person can experience. Stalkers can either be complete stranger or can be someone well known to the victim such as in the case of an ex-boyfriend or ex-girlfriend. The first thing that we should do if we have a stalker is to report to the police so that appropriate action can be taken. When dealing with a stalker, it can be reassuring for you to have a bodyguard until the stalking episode is dealt with. Having someone keep an eye on you might also have the effect of deterring the stalker if the other measures undertaken have not already deterred him or her.
If threats have been made to your life
If you have received death threats, it is advisable to ensure that you take steps to protect yourself. Never take such threats lightly and always report to the police so that steps can be taken to identify the source of the threats and take action if necessary. Depending on the severity of the threats, you might consider hiring the services of a bodyguard until the origin of the threats is identified and dealt with.
If you have encountered negative public reaction
There are many reasons why an individual could elicit a negative reaction from the public. He or she might be involved in a high profile and controversial court case in which a section of the public might deem them to be in the wrong. An Individual might also be the public face of a business or an institution that could be in the middle of a public scandal. Either way, being in such a situation always creates the risk that one or several members of the public might actually carrying out the threat. In such a situation, it would be beneficial to hire a bodyguard until the negative public reaction has ended.
If you are travelling to an unsafe country
If you are about to travel to a high-risk country, it would be wise to consider hiring the services of a bodyguard. The Canadian government offers security risk assessment of all countries.  If a country is listed as highly risky, you are better off travelling with a bodyguard to minimize the risk of harm during travel. Your security solution company will advise on the number of bodyguards and other precautions that you should take based on their assessment of the security risk.
Bodyguards and personal protection services are not just needed by celebrities and politicians. As we have shown, these services can be helpful to individuals depending on the circumstances that they find themselves in.
In addition to personal protection, a good security company will also offer advice on other security elements such as home security when facing any of the above situations. There are a number of security companies offering security solutions in Montreal that can give your excellent advice if you decide to seek the services of a bodyguard.
Event security is a service that removes the burden of security from the minds of event organizers. With the knowledge that you do not have to worry about security, you are then free to concentrate on the main business of the day.
Crowd control
If it is a large event, there is definitely need for security to monitor and control the crowd. Large crowds are bound to get rowdy and can easily get out of hand. In these instances, it is then the sensible thing to engage the services of a professional security firm to provide the much needed management to prevent stampedes, disorderly behaviour from drunkards or riots.
Crowd control is normally used in events such as school functions, art exhibitions or any event that involves large crowds. At the events, the security guards use metal detectors and sniffer dogs to prevent illegal material like drugs from getting into the venue. In this era of terrorism, the sniffer dogs are trained to sniff out explosives.
Escorts and manned guarding
If the event goes on way into the night, the security guards engaged can be useful in escorting guests to and from their cars. They also man the door during events where access to the event is controlled. In the event that it is an event that involves alcohol, they will man the doors and ensure that no minor gets in.
They check for identification and do body searches to ensure nothing illegal is brought into the venue. They also keep surveillance during the event and watch for drunk and rowdy characters. They will have metal detectors too in the event someone brings a gun to the venue. Any person who comes with a gun has to have a licence or else turned away.
Monitoring guest list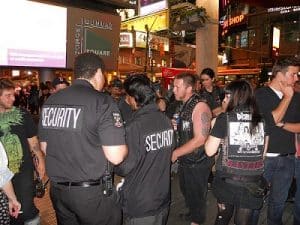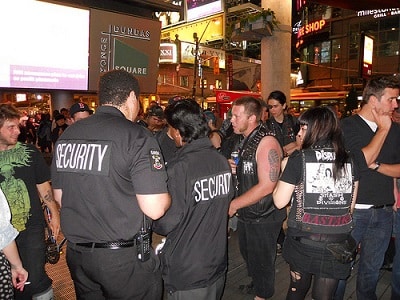 It is easy to have gate crashers during events that are guests only, especially parties. Hiring a security firm ensures that only those on the guest list access the venue. Having to turn away a guest is awkward and embarrassing. It is much easier when there are guards at the door which makes it less personal and removes the awkwardness from the situation.
Crime detection
The presence of a security firm is a sure way to detect and thwart criminals from an event. In the event that a crime does happen, you are assured of the crime scene being secured and handled in a very professional manner before the police arrive. They will handle the crime scene with care and effectively detain any suspects they arrest with efficiency and professionalism. They will also collect evidence and take witness statements in case of a crime or accident. Most security guards in Montreal are highly trained in security matters and are well suited for enforcing event security,
Protecting VIPs
There may be dignitaries attending the event and you'd want to be at ease, even with police protection. The security firm will work in liaison with the police to protect the dignitaries. This also brings into play the issue of access control. For example, if the event is a music concert that may easily get out of hand, the security guards will monitor and control who has direct access to the celebrity. Fans are likely to get out of hand, so the guards provide a buffer between the crowds and the celebrity.
Hiring a security firm for an event is definitely a good move. It leaves you at ease to concentrate on enjoying the event without having to worry about security. The guards are always alert and stationed all over while monitoring the crowd. In the event a person gets rowdy, they are well trained to handle the situation. They are also well trained in the event of an accident or crime and will secure the situation before the police arrive.
In today's rapidly evolving business environment, it is becoming increasingly necessary to hire security firms to secure our businesses. Terrorism is a real threat and cyber criminals are getting more daring. This calls for a security consultancy from a security firm for the following reasons.
Assessment of your organisation
The first step to a security consultancy is an assessment of your organization, which not just anyone can do. It pays to look for a trusted firm. Building security in Montreal is a serious and growing industry as people begin to be more security conscious. It evaluates the existing security operations by doing a premise visit and interviews with key employees. It gives recommendations about the existing security framework and how best it can be improved. The system is under a continuous assessment and prone to periodic checks to verify its efficiency. An organization is sure to have security goals, and these recommendations allow the organization to reach its security goals.
Crisis management for organisations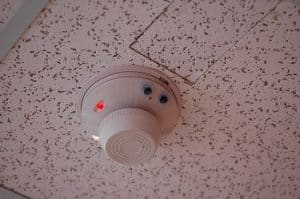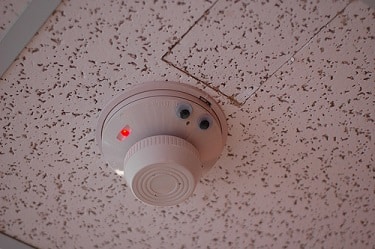 Crisis management involves a system in which an organization deals with any threat, present or perceived. The first step is to understanding your organizational needs and its specific requirements. A business impact analysis is crucial in helping you understand your organization's vulnerability. In these days of cyber crime, it is imperative that every aspect of the business is covered and potential crises are averted.
Threat assessment for now and the future
Threat assessment is strategies that are put in place to determine the seriousness of a threat or danger now, or in the future. A security company will be able to avert such threats by making recommendations. Online security especially looks to putting firewalls in place to prevent cyber crime.
Employees are bound to log in on strange websites and these are some of the risks covered. A company may have measures in place at the building entrance to have everyone checked. It is then a weakness in the system to have some members not checked. A directive has to be given to search everyone. This is perceived as a potential threat and assessed as such.
Security audit
A security firm will do a security audit of your organization and armed with the audit evidence give you a detailed report. The audit includes interviewing staff and checking for vulnerabilities in the security system. This report will give you a clue as to where there are current problems and what areas are likely to be problematic in the future.
The conclusion of the audit is recommending effective implementation strategies. The audit is normally in terms of physical and online security. It is extremely risky not to have security measures put in place online. Hackers are getting more and more sophisticated and it just takes a virus to destroy all documents and run an organization. With the advent of terrorism, everyone has become very vigilant. Security firms have upped their game, and every angle looked into. A focus area is building a profile, making sure there are clear and laid out security objectives, in case there were none. That way, everyone knows what is expected of them and the steps to take to keep the system in place and in good working order.
Hiring a security firm is always a return on your investment. You may assume that the security measures you have in place are the best, but an assessment and security audit just may prove you wrong and show holes in your system. The security firm will have experts come in and lay down strategies that will in the long run improve your security system. By auditing the present system, making additions and recommendations, your security becomes better at forestalling threats before they happen.
The demand for security solutions in Montreal and in other parts of the world has risen greatly over the past several years. If you own a company, chances are that you have security guards protecting it and making sure that only the right people access the building. You could opt to have your own in-house security team, but in many cases, you are better off getting the service from a security firm.
Working with an established security firm gives you the benefit of more experience. The firm is also likely to have trained their staff well, making them more effective. As an in-charge in the security department of such a facility, you may want to find out whether the officers are working as expected or not. There are a number of ways of assessing their effectiveness including:
Using drills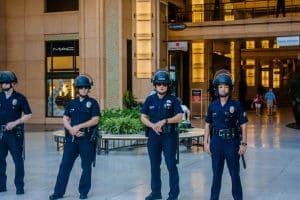 Once in a while, you should simulate a situation where the officers are required to achieve a certain objective. For instance, if the officers are responsible for organizing people exiting the building during a fire, you can start a random fire drill and then use this as a tool to assess their performance. Of course, fire drills are usually meant to assess the preparedness for a fire, but you can also monitor how your officers behave in the situation as well. If they manage to stay calm and to direct people to the correct location, then you can trust that they will perform this task well if a real fire happened. If not, you may need to either have them retrained, or work with a better security company. In addition to fires, you can also simulate drills for other specific events including terrorist threats.
Customer experience 
If you have security staff manning the entrance to your building, you can also use customer experience to assess their effectiveness. If you notice that a large number of people complain that the security personnel are mishandling them, you might need to investigate this further. Of course, some friction is normally expected between the security personnel and a few people, particularly individuals who are not cooperative or who are intoxicated. However, if such complaints are numerous over a short period of time, you should consider it a yardstick for the quality of your security personnel.
Security cameras 
In addition to deterrence and providing video evidence during a crime, you can also use security cameras to monitor how your staff work. For instance, you may notice some security personnel slacking off or abandoning their posts when they are not supposed to. This can be a huge security risk, and you can use this as evidence that you need a stronger security solution. Of course, if you work with a security firm that has a good reputation and which has been in existence for a long time, this may not be a problem. Their staff are usually well trained and remunerated, so this behavior is less common among them.
Observing security routines
In some cases, you can simply observe how the security personnel are doing their duties. One common job for security guards is scanning and patting down people before they gain access to a building. To do this, they are usually provided with a metal detector or other tools. If you notice that the guards simply let people pass by without checking them, you can note this down as a sign of poor performance. Some may even pretend to use the metal detectors to check people, but in reality, they are switched off. If you or other people notice this behavior among your security personnel, it may be a sign that your security needs are not being met.
Security in all parts of the world has become a major issue. With the rise of issues such as terrorism and crime, it's important for any commercial building to have a strategy to bolster its security to prevent or at least minimize some of these events. If you are in charge of the security for a major commercial building, getting officers from a reputable security firm as part of the security process should be obvious. Since security is so important, taking the time to go through the credentials and past performance of such a company is definitely not a waste of time. Consulting previous and current customers (if you know a few) about them is also helpful.
There are a few classical mistakes that commercial entities make when drawing up security plans for their buildings. For commercial building security in Montreal to be effective, you will need to avoid these even after starting to work with the security firms. If you are in a contract with a top notch security firm, they will help you spot and avoid some of them. These include:
Sacrificing security for aesthetics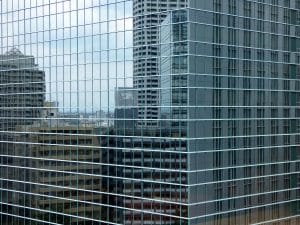 Sure, you may want your commercial building to look beautiful. This makes sense; we live in a competitive world and you need to do everything you can to attract customers and have their confidence. However, this should not sacrifice security. This is a common problem in many commercial buildings. For instance, growing a hedge around the building even in isolated places may make it look beautiful. However, remember that the combination of the hedge and an isolated path would be perfect for anyone who wants to commit crimes. You should therefore work with a security consultant on such aspects to ensure that the aesthetic aspects of the building do not make it easier for crimes to happen in the vicinity.
Having some entrances not manned
Your building might have a main entrance, as well as other entrances that are unlikely to be used. For instance, there could be an entrance at the back that is not only difficult to get to, but which few people know of. Not properly securing such an entrance is a bad idea. When coming up with security plans for a commercial or any other building, remember that a determined criminal would study the building carefully before making their move. If they notice that such an entrance is not protected, that is where they may focus on if they want to get into the building. In a commercial property, such as a bank or a jewelry store, this could result in huge losses. Even if an entrance seems too remote to be used, secure it.
Loosening security protocol for select staff
If you have a security system such as where guards check everyone before they enter the building, make sure that this applies to everyone. Having some people such as managerial staff exempt from this is common, but could lead to mishaps in future. For instance, if one of your employees is organizing an inside job to rob the facility, they could easily carry what they need to pull it off if they know that they will not be checked. Any security measure that you come up with should apply to everyone.
These are some of the common oversights that commercial firms make when designing security systems. Avoiding them is necessary if you are to end up with a building that is safer. Of course, there are many other issues you might need to address. Working in conjunction with a tried and tested security firm will help you do this.
For companies dependent on security staff, the rate of turnover for such staff members should be of concern. High security staff turnover rates may not seem like a big problem to a company that hires the security staff. However, if the hiring is on long term basis, the hiring company should aim to work with security firms that have lower turnovers. High turnover rates can negatively affect the effectiveness of the security force as a whole. This is mostly due to having a large proportion of the force being new recruits if the more experienced ones quit.
For turnover rates to be kept at a minimum, you need to hire from a respectable company. Some of the practices that they may have in place to prevent quitting include:
Commensurate pay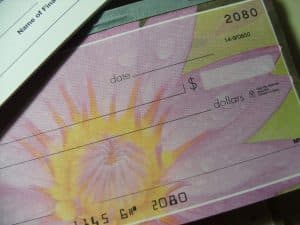 Stable security firms with a good history tend to have more customers. This means more profit to them, and the possibility of higher pay for their officers. As a result, the officers employed by these firms are unlikely to do anything that might jeopardize their positions. Clients will therefore not have to deal with discipline issues or other problems from the officers. Good pay also reduces the risk of the officers quitting.
Good work conditions 
For a low officer turnover, the company you are hiring from needs to provide its staff with excellent working conditions. Avoiding overworking them, making sure they have the correct equipment and equitable shifts will all increase morale. This has benefits for both you and the security firm. The security firm will have more loyal employees who will in turn do their jobs well. This will improve their reputation and potentially increase their market share. For you, it means you get security officers who actually love what they do and will do it well. You will get excellent value for money for whatever reason you are getting the security officers.
Continuous training 
A security firm that makes an effort to keep training its staff will see less staff turnover. This is a good thing, since this essentially translates to investing in the staff. For you as the customer, this training will ensure that you get officers who will serve you better. This is another aspect that will result in good value for money, a quality that many security firms find it hard to offer.
Work perks 
In any work environment, different perks are usually a good way to motivate staff. Some of these include paid holidays for staff members who have shown exemplary work ethic. The company could also offer bonuses to staff if the year has been particularly profitable. This way, it will be in their best interests to make sure that the company performs even better in future, so that they can get bigger bonuses. This kind of culture creates a sort of loop which increases productivity and quality. And as usual, this means that you as the customer ends up getting nothing but the best.
If you are looking for a security service in Montreal that you think you will work with in the long term, always consider one that has a low staff turnover rate. These are some of the things you can ask about, so that you can get a good idea about this. If you find that the security officers are genuinely happy working for that particular company, then you can bet that it will take a lot for them to quit and join another service. This in turn means that they will offer you unparalleled security services, and may even develop a good relationship with the security services provider. In the end, always go for the company that has a low security staff turnover rate.