Do You Really Need A Security Guard?
Security guards are necessary because they can ensure the safety of people in concerts, airports, and other events. They can also safeguard artifacts from getting stolen and protect buildings from potential criminals. Let's find out if you really need security guards!
Security Guards Ensure Safety for Everyone during Your Event
In concerts, there are many people who would like to get on stage or sing with the music group or artists, yet no one can tell if everyone looking to get on stage has that exact purpose in mind.
Security guards can keep bands secure from people with dangerous intent. Trained guards also seize drugs from those using them illegally at live shows.
This can help keep the place secure as some might feel uncomfortable when it comes to drug users, while others might be allergic. At big events, the security personnel can protect celebs from getting injured by the crowd. They will usher in celebrities from their cars, making sure no one gets too physically close to them. Celebs are always ready to interact with hundreds of thousands, and people always want to talk with them.
But, some will choose to do this in a dangerous way, like try to actually assault them. Security officials play an essential role in protecting the celebrities. Simply by protecting the superstars, they make sure that followers will still be inspired by their favorite celebrities and never experience loss of life due to a fatal assault.
Security Guards Are the Best for Airport Safety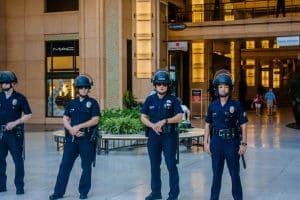 Hundreds of people go through the airports every single day. Not all people are an innocent tourist going from one destination to another, and security guards help pick these individuals from the rest. They can also risk their lives to search for bombs, monitor cameras, search for weaponry that evil-minded individuals use to hurt harmless civilians. By risking their lives, the guards help people going through the airport get to their destinations safely.
Protecting Premises 
Security guards work during the night to ensure that important premises such as museums do not get broken into. They work to protect invaluable artwork from theft. It is very brave that guards can work at night to protect you and your property. It is crucial to ensure that you are safe at night, and security guards play a huge role in this.
Security guards work as doormen for apartment buildings, making sure that tenants are secure. It is important because they are preventing any kind of destructive activity from reaching the residents, and if they see something dubious they will report it.
If an angry guy gets into the building running after a woman and a guard halts him, that guard might have saved that woman from domestic violence. Trained guards do not just stop crime; they can also help people from being scared.
Security solutions in Montreal are important in any community. The guards are trained to ensure a safe place for everybody. Overall, security guards help our world become a secure place by risking their own lives. People at shows, airports, red carpet events, and many other locations are all safe and sound because security officials are protecting them.
Conclusion

Simply by guarding places like schools, businesses, banks, and other important places, or simply by protecting people like college students, celebrities, politicians, and even chief executives, security guards show that they play a significant role in the world. That is the only worry that they have to keep in mind, and if they do not do that, the place around us could be very risky and dangerous. This is why security service is very important nowadays.
Comments Off

on Do You Really Need A Security Guard?